July 31, 2004
Save the World!
Oh what have they done to our beloved bovines! Save the earth from his horrible invasion.
Yeah it's kinda cheesy, but hey! It's got cows!
Posted by Jamison at 06:23 PM | Comments (0)
Flaming Manure
More depressing news from the Underground Bovine Resistance:
Just Two Words: 'Flaming Manure'
(Ferndale, Wash.-AP, July 29, 2004)

Crews fighting a blaze in a three-acre manure lagoon Wednesday smothered the flames with more of the same - a blanket of wet cow manure.
The cause of the fire was not known. It started Sunday in brush growing on the crust of manure, wood chips and barn shavings on the surface of the lagoon, which is 24 feet deep.

After working with water and foam, crews began spraying the wet manure on Tuesday. Another layer was applied on Wednesday, and Assistant Fire Chief Larry Hoffman said the fire appeared to be "98-99 percent" out.

Hoffman received an earful of complaints about the smoke and odor as the fire burned on a dairy farm outside Ferndale, about 100 miles north of Seattle.

"We're not the most popular department in town," he said.
As if it wasn't enough that cow-pies are used to power cars for the humans, but they are using them to combat fires, and interept with a foreign ritual which they are unfamiliar with (the cause mind you was for a religious ceremony!). They have lost popularity with the townsfolk, and with the native cows as well.
Posted by CrazyJoe at 04:05 PM | Comments (0)
Cow-Pies used as Energy Source!
Most disturbing News from the humans:
Explorer kicks gas habit on roadtrip over 16,000 miles
Alternative fuels, and vehicles, were used in 'eco-trek' around U.S.

By Miguel Llanos, MSNBC

An Australian explorer and TV host has gone where no American has gone before: Driving 16,000 miles around the United States on two dozen vehicles powered not by fossil fuel but by alternative energy -- from solar power to cow pies.


Shaun Murphy crossed San Francisco's Golden Gate Bridge last Friday after having driven, ridden, flown and canoed his way without stopping at a gas or diesel station.

"The cool thing is most of the fuel we've used is being produced today on American farms," Murphy said in marking his journey's end. "I never paid a cent for fuel but I've had to barter for it. Along the way I've milked a few cows, caught a few fish and washed a few dishes in return for fuel."

Murphy's "eco-trek" took him from San Francisco to the Canadian border, across the Rockies to the Great Lakes, on to New York, south to Florida, then across the South and back to San Francisco.

Among the 28 vehicles he used were an electric motorcycle, a pickup truck powered by soybean oil and a jet turbine, a solar-powered canoe, and a plane powered by corn whiskey, or ethanol as farmers like to call it.

Murphy even capped off the trip, which took nine months and covered 30 states, in style: by driving a 32-foot H1 Hummer limo powered by a potpourri of energy sources.

Team engineer and limo owner Russel Gehrke says Murphy wanted to "incorporate every fuel he used when he started."

Ethanol and soybean oil, also known as biodiesel, were burned in the engine, while solid organic matter was mixed with ethanol in a blender and then poured into a "gasifier" where hydrocarbon gases were captured to help fuel the vehicle.

The solid matter included dog food, beans, stale cookies and left over sandwiches.

Fuel smoothie used
The gasifier, Gehrke says, "allows the biodiesel to last longer," increasing the mileage to 12-15 miles per gallon while maintaining a top speed of 75 mph.

"Think of it as a supplement," he says of the fuel smoothie. "Five or six pounds of it go into a tank, and it only comes into play on the highway when temperatures go up."

In addition, heat from the exhaust is used to power the gasifier, creating what Gehrke calls a "closed loop" system.

Ten solar panels atop the limo's roof make electricity, which charges the battery pack and helps power a system that produces hydrogen. The hydrogen is added to the engine to reduce emissions and improve performance.

Beignets and crawfish
Earlier in the trip, Murphy drove an H2 Hummer with a similar system. "We fed the Hummer beignets in New Orleans, then crawfish, Pop Tarts, and leftover Cajun food. We added soybean oil to power us all the way across Louisiana to Texas," said Murphy.

In an online log, Murphy wrote that the goal with the Hummer was "to turn the biggest gas guzzler on the road into a cool-fuel vehicle purring along without gas or diesel."

The H2 also had its own gasifier. "We mixed dog food with old cookies and baked beans, along with some corn whiskey and pumped it through to the engine," Murphy wrote. "We now have a 3 mile to the gallon gas guzzler steamin' along at around 12-15 mpg."

Having worked in Australian television, Murphy took along a crew to film his trip and hopes to sell his adventure to a cable network.

Murphy has logged stories, photos and video of his journey online at www.ecotrekker.com.
The Underground Bovine Resistance have added "Using Cow Pies as Selfish Energy Source" to the list of charges against the humans for Crimes Against Bovines. When asked what they suggest to be done to deal with these issues, they had no ideas. "It's not like we can stop making them." said one of the unidentified informants.
Source
Posted by CrazyJoe at 03:59 PM | Comments (0)
Runaway Cows Crsh Commuter's Car
It seems some members of the Underground Bovine Resistance have been spotted!
Runaway cows crush commuter's car
Thursday July 29, 11:37 AM
A woman was left in shock after a herd of runaway cows trampled over her car.

Barbara Epps, 52, was travelling to work in her Toyota Yaris on the A4173 towards Edge in Gloucestershire when she spotted the herd.

Mrs Epps, from Quedgeley, Gloucestershire, said: "I was just driving along when all of a sudden these cows came hurtling out of a garden and flew over the car then crashed on to the road on the other side."
It's not often that the U.B.R. makes their apparences in broad daylight, for such reasons as this - avoid any sort of awareness being manifested by the humans!
Posted by CrazyJoe at 03:49 PM | Comments (0)
July 29, 2004
Support the Underground Moovement!
The link speaks for itself. See Below for the Lyrics to Cows with guns and the link to the band!Cows with Guns
Fat and docile, big and dumb
They look so stupid, they aren't much fun
Cows aren't fun

They eat to grow, grow to die
Die to be et at the hamburger fry
Cows well done
Nobody thunk it, nobody knew
No one imagined the great cow guru
Cows are one
He hid in the forest, read books with great zeal
He loved Che Guevera, a revolutionary veal
Cow Tse Tongue
He spoke about justice, but nobody stirred
He felt like an outcast, alone in the herd
Cow doldrums
He mooed we must fight, escape or we'll die
Cows gathered around, cause the steaks were so high
Bad cow pun
But then he was captured, stuffed into a crate
Loaded onto a truck, where he rode to his fate
Cows are bummed
He was a scrawny calf, who looked rather woozy
No one suspected he was packing an Uzi
Cows with guns
They came with a needle to stick in his thigh
He kicked for the groin, he pissed in their eye
Cow well hung
Knocked over a tractor and ran for the door
Six gallons of gas flowed out on the floor
Run cows run!
He picked up a bullhorn and jumped up on the hay
We are free roving bovines, we run free today
We will Ffight for bovine Cfreedom
And Ehold our large heads Amhigh
We will Frun free with the CBuffalo, or Edie
Cows with [Am]guns
They crashed the gate in a great stampede
Tipped over a milk truck, torched all the feed
Cows have fun
Sixty police cars were piled in a heap
Covered in cow pies, covered up deep
Much cow dung
Black smoke rising, darkening the day
Twelve burning McDonalds, have it your way
We will fight for bovine freedom
And hold our large heads high
We will run free with the Buffalo, or die
Cows with guns
The President said "enough is enough
These uppity cattle, its time to get tough"
Cow dung flung
The newspapers gloated, folks sighed with relief
Tomorrow at noon, they would all be ground beef
Cows on buns
The cows were surrounded, they waited and prayed
They mooed their last moos,
they chewed their last hay
Cows out gunned
The order was given to turn cows to whoppers
Enforced by the might of ten thousand coppers
But on the horizon surrounding the shoppers
Came the deafening roar of chickens in choppers
We will fight for bovine freedom
And hold our large heads high
We will run free with the Buffalo, or die
Cows with guns

Posted by Jamison at 06:15 PM | Comments (0)
July 28, 2004
Cows Vacation Finally Ends.
Two cows recaptured after wandering through beer tent at NS lobster festival
PICTOU, N.S. (CP)

It's a good thing the menu called for seafood instead of beef.

Two cows have been captured after 15 adventurous days of freedom, including a stroll through a beer tent at a local lobster festival. The pair made their break while being delivered to their new home in Pictou earlier this month. Several men on horseback were able to catch them on Saturday.

The roundup took more than two weeks because no one in the area was qualified to use a tranquillizer gun.
If only someone would have just given them some beer, they would have been back on their way. Source
Posted by CrazyJoe at 08:31 PM | Comments (0)
July 27, 2004
Ghost Cow!
A Ghostly Accident
28/06/2004 Nelspruit - An Mpumalanga woman swears she drove over the ghost of a man who was conjured up with muti. (Ghost Cow)
Primary school teacher Mettern Maseko said she came to a screeching halt after "hitting" the man along the main road in Newscom tribal trust near White River last Tuesday morning.

When she looked back, there was nothing there.

"I could swear I drove over a man who appeared from nowhere," she said. "It happened so fast, I didn't have time to brake. When I looked in the rear-view mirror, he was gone."

She stopped and hooted for her husband, as she wasn't too far from her house.

"We looked under the car, where we found muti. There were three animal horns and black cloth tied around a small wooden drum," she said.

The police were alerted, but were too afraid to touch the muti, so they called a local inyanga, said Inspector Isaac Mnisi.

"The inyanga then took the muti and the horns away and we later heard he burned it," he said. "Luckily, the incident has not resulted in any witch hunts."

He said this is not the first report of a ghost on the main road in Newscom.

He says other motorists have reported seeing a ghost cow on the road for the past 10 years.

"About 20 motorists have died after losing control of their vehicles while trying to avoid the ghost cow," he said.

Two speed bumps have since been placed in the road to slow down traffic along the road, he said.
Since the Ghost Cow is of course dead, and not very quick, these speed bumps will be very helpfull in her effort to get her message delivered...whatever it may be!
Posted by CrazyJoe at 03:57 PM | Comments (0)
Magical Trevor

Certainly not as addictive as Badgers Badgers Badgers, but much better than some of his work, Weebls Stff brings us "Magical Trevor", which stars a cow that goes on a Magical Journey. Watch out, the song is catchy, but not so bad you'll be pulling out your hair.
Check it out.
He also released this really warped Cow Toon of sorts, which is just..well.. you find your own words for it.
Posted by CrazyJoe at 07:01 AM | Comments (0)
Greetings!
Jamison here, reporting on what matters the most to our bovine friends.
Apparenty Frau Paula of Wunstorf Germany was not permitted to make a withdrawl at the local bank due to thier policy of "No shoes, No service" Clearly in favor of horses, but discriminating against cows! Click the link below to see the actual news report... I'd paste the text here but it's copywritten.
Paula Tried to buy a wedding gift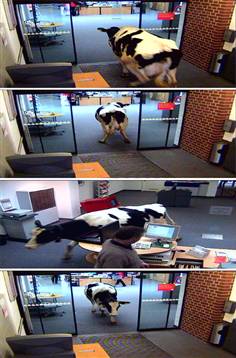 Wedding guest cow wanders into bank
'Paula' caught on security cameras
A combination picture from a security camera shows a Friesian cow named Paula wandering into a Hanover Sparkasse savings bank in the northern German small rural town of Wunstorf.


Updated: 1:39 p.m. ET March 02, 2004BERLIN - A Friesian cow took a detour from a wedding where she was meant to be a guest of honor, wandering into a German bank where she was caught on security cameras sidling up to the tellers.


Top German newspaper Frankfurter Allgemeine Zeitung on Friday published four robber-style photos of the cow, named Paula, strolling into the Sparkasse savings bank in Wunstorf, a small rural town in northern Germany.


"The cow entered, made an elegant turn and walked right back out," a bank spokeswoman said. "It was an extraordinary experience, but it was over very quickly."

The cow was supposed to be taking part in a nearby wedding ceremony when it wandered into the bank. When farmers in the rural region marry, the new bride traditionally milks a cow to prove her skills in the homestead economy.
Posted by Jamison at 06:12 AM | Comments (0)
Carbonated Milk Revisted
Milk with bubbles? School already interested in new carbonated milk. VINNEE TONG, Associated Press Writer Sunday, August 31, 2003
PDT MILFORD, N.Y. (AP) -- Adding bubbles to milk is tricky. Pump in too many, and it foams over. Add too few and why bother. George and Mary Ann Clark, husband-and-wife entrepreneurs, have spent the past seven years trying to find the balance. Last week, they started production on a carbonated milk-based drink called Refreshing Power Milk -- RPM -- and they already have orders coming in from school districts.
Mary Ann Clark, a registered nurse, said she was pained to see children drinking cola and shunning milk when she worked in schools so she decided to do something about it.

"If you take water and add carbon dioxide to make soda, why can't you do that with milk?" she asked.

She and her biochemist husband started work on a carbonated milk drink in 1996 and founded Mac Farms Inc. in 1998. The company already sells eMoo, another carbonated milk drink. On Wednesday, in a factory with a barn-red roof and purple-and-yellow cow out front, the first batch of RPM was bottled.

The Clarks combined water and powdered milk to create slightly fizzy, mildly milky-tasting drink with the nutritional value of skim milk and 40 percent of the recommended daily amount of calcium.

Each 12-ounce serving contains 90 calories and 12 grams of sugar, compared to 150 calories and 40 grams of sugar in a 12-ounce can of Coca-Cola. RPM contains 9 grams of protein compared to none in a can of Coca-Cola, but is higher in sodium: 115 grams to 52 grams per 12-ounce serving.

The flavors: vanilla cappuccino, Brazilian chocolate and chocolate raspberry.

Researchers at Cornell University had been looking for ways to extend the shelf life of dairy products using carbonation when the researched teamed up with the Clarks several years ago.

Joe Hotchkiss, chairman of the Department of Food Science at Cornell University, said the drink was designed to attract people who like soda.

"People consume food based on their sensory properties, taste, what kind of emotional feelings it gives them," said Hotchkiss. "Our role is to provide that similar kind of satisfaction in foods, but also couple that to foods that are more nutritionally sound."

This is a bit old, but still pretty darn interesting. What would happen if you shake a carbonated cow too hard, would it explode?
Anyhow, the original article is located here, but it seems there's been an update! Mac Farms Inc. have announced that "The USDA has approved the sale of e-MOO® in school food service areas. E-moo® is now officially exempted from the "soda water" category of "foods of minimal nutritional value"."
Posted by CrazyJoe at 05:26 AM | Comments (0)
"I'm a Cow" Flash

Quite possibily the best darn flash movie on the internet to date, "I'm a Cow", by Aaron Pendland. His website is pretty nifty - for a human - located at Http://www.pendland.com. The link to the flash there is here.
In case the link is ever broken, I did download the flash and stuck in my host somewhere, so just Email me that it's broke, and I'll get it online for you all, until then, suck up Aaron's bandwith!
Posted by CrazyJoe at 05:20 AM | Comments (0)
Web-Zine Issues Online!
It took me some time, but I have fixed the links to all of the old Webzine Issues of Cowsmo (all TWO of them)! Now that I have this 'new' Cowsmopolitan up and running, expect a new issue soon perhaps!
In other Site Related News, Jamison may be grazing around here soon enough, he helped out with "Ask Petunia" in the Webzine issues and bugged me to get this page back up and running. He better get to work, otherwise he'll get sent to the Market.
Posted by CrazyJoe at 04:59 AM | Comments (0)
July 25, 2004
Miracle Cow in Cambodia!
Cambodians lining up for miracle lick

Thousands of ill Cambodians are flocking to this northern village to be licked by a mystical cow named Preah who is curing their complaints, its owner has claimed.
Farmer Puch Pich said up to 400 people have been turning up daily for the past fortnight to be slobbered over, after the 13-month-old white beast apparently cured his wife Kong Mich of a chronic illness. They have been braving Cambodia's notoriously bad rainy season roads to travel from around the kingdom, paying 500 riel per person for four licks on the limb or body part of their choice.

"The cow won't lick people who don't put in their money... and if he doesn't think you believe in his powers, he won't lick you either," Puch Pich quipped.

Ros Sath, 68, told AFP that before he underwent the unconventional treatment he could barely walk a few metres thanks to a stiff leg. "After the cow licked me four times I felt comfortable again and now I can walk 300 or 400 metres without getting exhausted," he said. The curative powers of Preah - which means God in Khmer - were revealed when Kong Mich took the animal out to graze, said Puch Pich, who has owned the 325-dollar cow for five months.

"The cow was always wanting to lick my wife's arms and legs and two months after he started, she completely recovered from an illness we'd spent a lot of money trying to fix," he said amid the mayhem at his farm, about 90 kilometres north of Phnom Penh in Kampong Chhnang province.

The couple's theory was first tested on a 72-year-old visually impaired woman from the village whom Puch Pich claimed regained her sight after four licks.

"Then the news really spread," he told AFP. Some of the hundreds are bringing water for "take away" licks, while others are taking grass it has touched while eating, hoping to boil up some of its magic.

Puch Pich attributes the cow's powers to its birthplace at nearby commune Banteay Rongvek, which Cambodians believe was also the site of a mystical cow that was stolen by Cambodia's historical rival Thailand in ancient times.

Cambodians are highly superstitious, particularly in the countryside where people continue to meld animist practices with Buddhism.
Don't know how long the main link will stay active, but here you go.

Posted by CrazyJoe at 08:07 AM | Comments (0)
Bovine Prophylactics!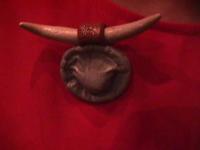 Thanks to Ling at Stratics for this funny rubber! You know with horns like that, it's totally for her pleasure!

.
.
Posted by CrazyJoe at 07:14 AM | Comments (0)
Cowsmopolitan.com Overhaul!
Since Cowsmopolitan is averaging right now one issue per year, and I have a person or two clawing at me to start a Cow Blog instead of just yearly issues, I'm taking steps to install a blog here and get to work on creating the Cowsmopolitan.com Blog.
The OLD Cowsmopolitan.com should still be online at http://www.crazyjoe.us/cowsmopolitan.
So keep checking back!
Posted by CrazyJoe at 07:01 AM | Comments (0)