« Carbonated Milk Revisted | Main | Magical Trevor »
July 27, 2004
Greetings!
Jamison here, reporting on what matters the most to our bovine friends.
Apparenty Frau Paula of Wunstorf Germany was not permitted to make a withdrawl at the local bank due to thier policy of "No shoes, No service" Clearly in favor of horses, but discriminating against cows! Click the link below to see the actual news report... I'd paste the text here but it's copywritten.
Paula Tried to buy a wedding gift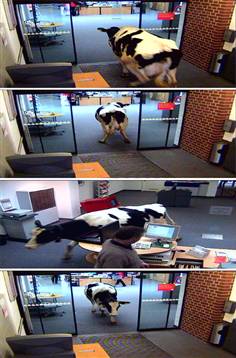 Wedding guest cow wanders into bank
'Paula' caught on security cameras
A combination picture from a security camera shows a Friesian cow named Paula wandering into a Hanover Sparkasse savings bank in the northern German small rural town of Wunstorf.


Updated: 1:39 p.m. ET March 02, 2004BERLIN - A Friesian cow took a detour from a wedding where she was meant to be a guest of honor, wandering into a German bank where she was caught on security cameras sidling up to the tellers.


Top German newspaper Frankfurter Allgemeine Zeitung on Friday published four robber-style photos of the cow, named Paula, strolling into the Sparkasse savings bank in Wunstorf, a small rural town in northern Germany.


"The cow entered, made an elegant turn and walked right back out," a bank spokeswoman said. "It was an extraordinary experience, but it was over very quickly."

The cow was supposed to be taking part in a nearby wedding ceremony when it wandered into the bank. When farmers in the rural region marry, the new bride traditionally milks a cow to prove her skills in the homestead economy.
Posted by Jamison at July 27, 2004 06:12 AM
Comments
Post a comment